Gov. Cooper issues executive order to increase number of ZEVs
Last week, Governor Roy Cooper issued Executive Order 80, which calls for the State of North Carolina to protect North Carolina's environment while growing clean energy technologies.
Executive Order 80 affirms North Carolina's commitment to reducing statewide greenhouse gas emissions to 40% below 2005 levels, calls for a 40% reduction in energy consumption in state-owned buildings, and calls for an increase in registered, zero-emission vehicles ("ZEVs") to at least 80,000 – all by year 2025, according to a press release from Gov. Cooper.
The Executive Order includes two transportation initiatives, specifically:
Taking action to increase the number of zero-emission vehicles, like electric vehicles (EVs), registered in North Carolina:
The North Carolina Department of Transportation (**DOT'), in coordination with DEQ, shall develop a North Carolina ZEV Plan ("ZEV Plan") designed to increase the number of registered ZEVs in the state to at least 80,000 by 2025. The ZEV Plan shall help establish interstate and intrastate ZEV corridors, coordinate and increase the installation of ZEV infrastructure, and incorporate, where appropriate, additional best practices for increasing ZEV adoption. DOT shall complete the ZEV Plan for the Council to submit to the Governor by October 1, 2019.
…and encouraging state agencies to purchase and use ZEVs:
Cabinet agencies shall prioritize ZEVs in the purchase or lease of new vehicles and shall use ZEVs for agency business travel when feasible. When ZEV use is not feasible, cabinet agencies shall prioritize cost-effective, low-emission alternatives. To support implementation of this directive, the North Carolina Department of Administration ("DOA") shall develop a North Carolina Motor Fleet ZEV Plan ("Motor Fleet ZEV Plan") that identifies the types of trips for which a ZEV is feasible, recommends infrastructure necessary to support ZEV use, develops procurement options and strategies to increase the purchase and utilization of ZEVs, and addresses other key topics. DOA shall complete the Motor Fleet ZEV Plan and provide an accounting of each agency's ZEVs and miles driven by vehicle type for the Council to submit to the Governor by October 1, 2019, and annually thereafter.
"This is a good step towards generating awareness and interest for plug-in vehicles," said Rick Sapienza, Clean Transportation Program Director at NC Clean Energy Technology Center (NCCETC). "It is going to take a sustained effort that includes policy, education and motivation through incentives to really move the needle – as well as patience."
It was announced in October 2018 that plug-in electric car sales surpassed 1 million in the US. In 2017 alone, approximately 200,000 electric vehicles were sold in the US, the most yet for any year in the U.S. electric vehicle market, according to a recent 50 States of Electric Vehicles Report, from Q3 2018.
In North Carolina, according to ChargePoint, the state was third in the nation in EV growth in 2016, and Raleigh/Durham were the third fastest growing metropolitan areas for electric vehicles. In the last four years, growth has averaged more than 50 percent year over year, according to the Auto Alliance.
Total EV registrations (both plug-in hybrid electric vehicles and battery electric vehicles) in North Carolina were at 7,946 in 2017, and in 2018, the numbers jumped to 10,001 just through June, representing a 26 percent growth. 1,670 EVs were sold in North Carolina in 2016, and 2,055 were sold in 2017, representing a Year Over Year increase of 23.10 percent, according to EVadoption.com.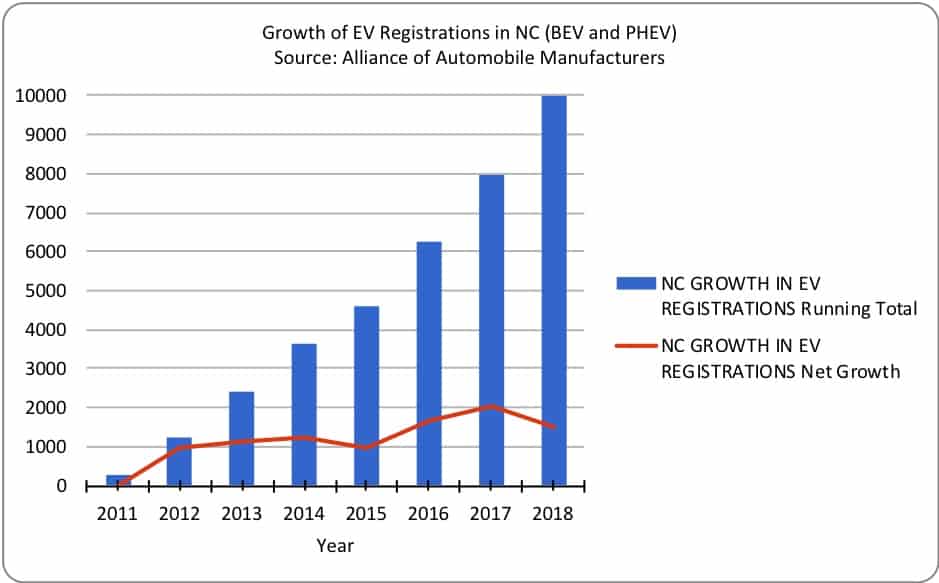 There are more than 3.5 million vehicles currently registered in North Carolina. Reaching the Executive Order goal would require registering about an average of 11,000 vehicles per year between now and 2025.
"The numbers are growing, but still represent a small percentage of the market," Sapienza said. "There is plenty of room for growth."
Charging infrastructure availability and range anxiety remain barriers to consumer adoption of electric vehicles, according to the 2018 50 States of Electric Vehicles report. As battery technology and associated vehicle designs and technologies improve, vehicle ranges are increasing, but the lack of more widespread charging infrastructure remains a deterrent to greater market acceptance in most parts of the country, according to the report. While market factors play a large role in this, legal and regulatory barriers are also affecting the pace and location of infrastructure development.
However, as electric vehicle battery prices drop, and driving range and performance improve, more vehicle manufacturers are announcing the launch of new, all-electric vehicle models, according to the recent 50 States of Electric Vehicles Report.
"The options and technology are getting better every year," Sapienza said. "We are in a very interesting and exciting time with regard to transportation."
Read the full Executive Order 80 here.